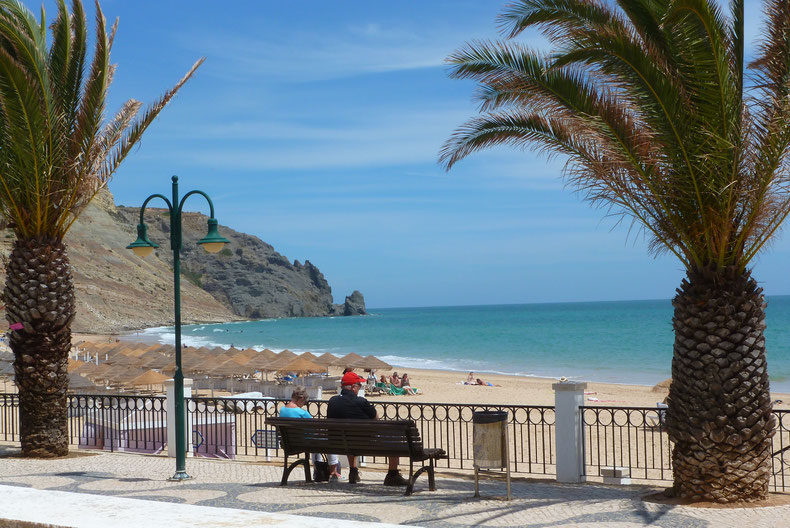 ACCOMODATION
Villas – www.villasmontedaluz.com
As far as Villas go, we hit the jackpot with ours at Monte Da Luz, a development of 4 villas nestled around a delightful pool with views across Praia Da Luz. We had booked the Jacaranda Villa and were immediately impressed at tranquillity and privacy of the location. Even though it felt like we were at the quiet end of Praia Da Luz, it was only a 5 minute walk to the shops, beach and restaurants.
I liked the self-catering aspect of our villa. It was well equipped and the local supermarket had a good selection of foods and drinks. We managed to save ourselves a fair chunk by preparing most meals either in the villa or on the barbeque and keeping beers in the fridge. It also meant that we didn't need to worry about childcare in the evenings.
The kids spent most of the holiday in the water. The on-site pool at the villa was beautiful, clean and big enough to have a lot of fun in.
The beach was less than 10 minutes away and there was plenty of opportunity to get involved with all sorts of water sports there. That left plenty of time for relaxation.
As a family holiday, this was just the ticket. There was plenty to keep the kids amused, lots of chill out time for the adults and the ability to combine the two perfectly. As Arnold Schwarzenegger once
said, "I'll be back!"
Apartment / Resort – www.baiadaluz.com
These luxurious apartments are available for sale or rent in one, two or three bedroom configurations, with poolside options.
What impressed us on arrival was the spacious feel and how clean and tidy the apartment was.
Our apartment felt light and airy, with enough facilities to cover all our needs but it felt uncluttered, with everything in its place. We checked in late and the Front Desk was still open (apparently it is open 24 hours a day, but we were too concerned with making use of the super comfortable beds to put this to the test). 
The staff were polite and helpful, showing us to our apartment in no time and explaining some of the features of Baia Da Luz.
That apartments are set at the foot of the hill that overlooks Praia Da Luz and are modern with plenty of free car parking. Activities include tennis courts, swimming pools, a playground for the kids and the resort is only a short walk from the beach and attractions in the village.
The Alloro Italian restaurant was high quality. We had an evening meal here on 3 nights and
found both the food and wine to be delicious and reasonably priced.
Baia Da Luz offers great quality apartments at affordable prices. It is a lovely environment to
holiday in, regardless of your age or holiday style.
Boutique Hotel - http://www.vivendamiranda.com/uk/home
At Hotel Vivenda Miranda you get all the boxes ticked. It is a boutique hotel where they've thought
of everything. With stunning coastal views, luxurious rooms, first class service and perfect weather, this is a vacation where you can really treat yourself to the works.
The deluxe suite that we stayed in was spacious and wellequipped, although we spent a lot of time on the large balcony, savouring the beautiful views whilst enjoying the occasional room service delivery. The décor was plush but quirky; just what you'd expect from a "boutique" hotel but sadly often don't get elsewhere.
The Mirandus restaurant consistently served excellent food and the wine list had a wonderful selection to choose from. Whilst the option of having a traditional Portuguese Churrasco barbeque was available each night, the A La Carte menu proved to be too tempting to pass up and drew us in for all bar one evening meals during our stay.
The Spa was a real treat and provided much relaxation along with my favourite Neal's Yard products.
With a range of treatments and spa days (lunch included in the price) available there is something for everyone.
My Organic Cleanse & Detox day left me feeling like a new woman and my husband even ventured into the sauna and steam room.
Our five night stay at Hotel Vivenda Miranda was a wonderful experience and left my husband and I fully refreshed and recharged. Special thanks must go to the wonderful staff who went to such lengths to make the stay so perfect.